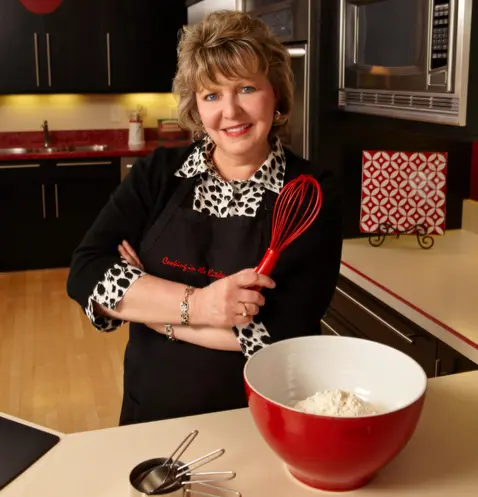 Nina is all about food!!!  In January 2006, Nina began teaching cooking classes in her home kitchen: "Cooking in the Kitchen with Nina."  She wants to help people get over their fears in the kitchen and make cooking fun—so that people will cook more at home for their friends and family. Nearly all the recipes Nina shares in her classes are original recipes that she has developed. She teaches several classes each week on a wide range of topics and interests.
Nina Swan-Kohler is a home economist, nutritionist, culinary professional, cookbook author, cooking school director and instructor of "Cooking in the Kitchen with Nina" Cooking Classes. In addition, she owns and operates a small kitchen equipment and gadget boutique in conjunction with her cooking classes. She is also a public relations practitioner and owns and operates Swan-Kohler & Associates Public Relations, located in Robins, Iowa.
Nina earned a bachelor's degree in home economics education from Southeast Missouri State University, Cape Girardeau, MO. She earned a master's degree in foods and nutrition and communications from the University of Missouri, Columbia. Swan-Kohler has worked in the culinary and food marketing industry for over 30 years. Nina develops and markets creative and delicious recipes for her food clients each year. Her recipes, feature articles and food photography continue to appear in numerous newspapers and magazines nationwide. She has been an active member of professional organizations throughout her career. She is currently a member of the Les Dames d'Escoffier and the International Association of Culinary Professionals (IACP).
An expert in all things concerning food, Nina has worked for National Oats Company and CMF&Z Advertising and Public Relations in Cedar Rapids, and many food companies throughout the United States, including Pioneer Flour Mills, White Lily Flour, Farmland Foods, Kraft Foods, West Liberty Foods, Burleson's Honey, Seaboard Farms Chicken and many others.
Nina develops creative and tasty recipes; conducts cooking demonstrations; writes feature articles for newspapers and magazines and does food styling for photography. She has been featured in Midwest Living, Southern Living and Southern Lady magazines. Nina has written food columns for "The Woman Today" and "City Revealed" magazines. She is currently writing monthly food features for the Cedar Rapids' Gazette Newspaper. She also appears on local television regularly. In 2003, Nina authored and published her first cookbook: "Tailgates to Touchdowns: Fabulous Football Food."
A lot like having the Food Network in Cedar Rapids . . .
Nina Swan-Kohler has many things in common with the celebrity chefs and cooks on the Food Network, however she offers a much tastier experience. You get to eat everything she makes in the classes, so come hungry!
Nina is like Rachael Ray (30 Minute Meals) in that's she practical and has a no-nonsense way of making cooking fun and non-threatening. Plus, she has created and developed many recipes that can be made start to finish in 30 minutes or less and has been doing so since 1981.
Nina is like Paula Deen (Paula's Home Cooking), in that she's a southern girl (albeit from southeast Missouri) and she's not afraid to use butter when a recipe warrants or demands it.
Nina is like Sandra Lee (Semi-Homemade) in that she uses many convenience products to make her tasty recipes faster to stir together and easy to make, yet never sacrificing taste and flavor. The time saved is used to create the special touches in serving the food.
Nina is like Alton Brown (Good Eats) in that it was her mother who influenced in the kitchen as her culinary talent took off. She's not quite as wacky as Alton, but she likes to have fun in the kitchen by sharing funny stories about her life.
Nina is like Ina Garten (The Barefoot Contessa) in that she invites you into her home to enjoy her easy, delicious and foolproof style of cooking recipes you can make at home. Plus, their names rhyme – Ina and Nina.
Nina shares Sara Molton's (Sara's Secrets) mission to encourage everyone to cook delicious and healthful food at home for family and friends.
Learn a little bit more about Nina's credentials and culinary journey . . .